Thanks very much for purchasing the 2019 Draft Scout Master Report Database Exports! It's been three decades since we created the foundation for NFLDraftScout, an extreme honor for me. This is the first time we made this massive information available for purchase to the general public. Versions of this information have grown in scope and content and I have refined it over the years. It was contracted in various ways by numerous Major Media Outlets since 2001 with roots that pioneered coverage extending to the 1980s. In this day of Draft coverage, not much is really new or has not been done before, but I continue my daily quest to expand and improve how to aggregate and package the best information possible.
I know the landscape has changed and I helped make significant improvements starting in 2001. At the heart of this is really my lover of college football. To me if you cover College Football properly you are covering the Draft, even if you are not thinking about it in that way.
I take extreme pride in the fact back in 2001 we were the first media company to build out Draft content to included 1,000's of players. Not just the top 100, or Top 10 per position like most did back then. We built a system that could reverse scout backend practice squad type players, 20 Years ago. The number of players who play the game we love is the most of any sport and these players have no set minor league system to help improve them. It makes Zero sense numbers-wise. Everything in this is subjective opinions & projecting futures.
More than that, it's ALL About Numbers. From the jersey numbers the players wear to their stats, testing numbers, rankings of all sorts, numerous trends, to how many years they play, how much money they make,how many games they win … ALL of it. There are 2,146 of the Best College Football players In here.
A LOT of time an effort goes into compiling a List such as this one. We start building out player lists from High School thru College. Gather, Rank, Follow and Track from Three to Six Years out. We had no more than six people on our team for any given year and during this current update we have only two. If you met or tried to talk to me over the years, I think you know that I don't have time to be very social if I'm always working on something like this, as well as College Football News, Info, Rosters, Depth Charts, Performance, and all that goes into creating & managing all of this pretty much myself.
This Master Report has it all — 2,146 total of the best College Football Players in the 2019 NFL Draft. Our information is accurate because I verify it myself. We gave testing numbers from the Combine and Pro Timing Days. Our Top 100, and Top 1200 Player Ratings (as of and will remain, April 11, 2019) and Much More. Over 40 Rows of Data per Player, you can sort and filter in many ways. From Players by College to Position, Fastest, Biggest, Smallest, etc, etc.
You must have an Excel Spread sheet viewer to be able to view and use this file.
It's also a large file, so it's win zipped.
If you have any issues, please contact me and I will email the file and help you.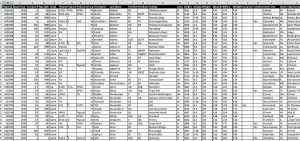 NFLDraftScout has been my Life and I will continue it's Legacy from Coach Bill Walsh through all who worked with me and for The Sports Xchange over the Years. The future for me is evolving, yet exciting right now. With all options opened, I am excited to see where we go next.
I hope you can spread the word for Draft Scout once you see and appreciate what we are building.
Brian Hitterman
Creator NFLDraftScout.com
DraftScout.com
brianhitterman@msn.com
| | |
| --- | --- |
| Row Name | Description |
| PlayerId | Draft Scouts Unique Number ID Assigned for Player from High School through Draft/Pro Football |
| DraftYear | Year in NFL Draft, ALL = 2019 for this Information |
| Position Rank | Draft Scout's Player Ranking for the Position they Play, Sort ASC, Ascending when Filtering by Position |
| Top 1200 | Draft Scout's Overall Top 1200 Ranking, Sort ASC, Ascending to view Top 1200 in Order. Total Player Pool 2,146/2,900 Plus Players Tested for the Draft. |
| Stock | Projected Statsu: Same (Holding Steady at the Time), Up (Rising), Down (Falling), Injury (Had or Entering Draft with an Injury) |
| Projected High | Highest Area of Draft or Round We Predict the Player will get Drafted based on Position Averages |
| Projected | Round Projection based on Players Top 1200 Rating, Cut to Exact Round Numbers |
| Projected Low | Lowest Area of Draft or Round We Predict the Player will get Drafted based on Position Averages |
| Jersey # | Players Jesery Number he worse this past Season |
| First Name | Player First Name |
| Last Name | Player Last Name |
| Position | Position Player Played in College or is Ranked at if Projected a Position Switch |
| Position2 | Position Player Could Play or Switch to in Pro Football |
| College | Players College he Attended |
| Class | Players Year of College, Sr = Senior, rSr = Redshirt Senior, Jr = Junior, rJr = Redshirt Junior, rSo= Redshirt Sophomore |
| Height | Players Height in Eights/Inch |
| Height2 | Players Height in Feet/Rounded up from Eights |
| Weight | Players Weight at Combine or Pro Day Measurements |
| 40LowRange | Players 40 Yard Dash – Lowest Time Range.In most cases .03 to.10 lowesr than his Fastest times to Group Hand Held Times & Estimate Ranges Pre-Testing |
| 40Time | Players 40 Yard Dash – Base 40 Time. The Average of the High-Low Range until Lowest Combine ET or Average Pro Day HH/Hand Held's Replace that Number. |
| 40HighRange | Players 40 Yard Dash – Highest Time Range.In most cases .03 to.10 lowesr than his Fastest times to Group Hand Held Times & Estimate Ranges Pre-Testing |
| Early Entry | Yes= Entered the NFL Draft Early, from Redshirt Sophomore (rSo) through Junior (Jr) |
| Combine Invite | Yes= Invited and Attended NFL Combine, Blank = No |
| Home City | Players Hometown City, Listed by College He Played For. |
| Home State | Players Home State |
| High School | Players High School or Junior College/Last College he Played For before enrolling. |
| Arm Length | Players Verified Arm Length Measurement, from Combine or Pro Day |
| Hand Length | Players Verified Hand Size Measurement, from Combine or Pro Day |
| Wingspan | Players Verified Wingspan Measurement, from Combine or Pro Day |
| CBench | C= Combine, All Rows with C in front are Combine Result Rows. CBench = Combine Bench Reps |
| PDBench | PD=ProDay, All Rows with PD in front are Verified Pro Timing Day Result Rows. PDBench = Pro Day Bench Reps |
| C10HH | Combine 10 Yard Dash HH – Fastest Hand Held Time |
| C10ET | Combine 10 Yard Dash ET – Fastest Electronic Time |
| PD10HH | Pro Day 10 Yard Dash HH – Fastest Hand Held Time |
| C20HH | Combine 20 Yard Dash HH – Fastest Hand Held Time |
| C20ET | Combine 20 Yard Dash ET – Fastest Electronic Time |
| PD20HH | Pro Day 20 Yard Dash HH – Fastest Hand Held Time |
| C40HH | Combine 40 Yard Dash HH – Fastest Hand Held Time |
| C40ET | Combine 40 Yard Dash ET – Fastest Electronic Time |
| PD40HH | **Pro Day 40 Yard Dash HH – Average of Both Runs/Range – Based on Numerous Factors. See Next Row for Times. |
| Pro Timing Day Notes | Verified 40 Yard Dash Hand Held Time Ranges/Other Various Notes on Drills skipped, Injuries, etc. |
| CVJ | Combine Vertical Jump – Highest |
| PDVJ | Pro Day Vertical Jump – Highest |
| CBJ | Combine Broad Jump -Longest |
| PDBJ | Pro Day Broad Jump – Longest |
| CShuttle | Combine Shutte Time – Fastest |
| PDShuttle | Pro Day Shuttle Time – Fastest |
| CCone | Combine 3Cone Time – Fastest |
| PDCone | Pro Day 3Cone Time -Fastest |
| Combine# | Jersey Number Player wore at the Combine |
| CombineGroup | Position Group Player was assigned to at the Combine |
| CombineWONote | Various Combine Workout Notes. The PBC Number is the Projected 40 Time we had as an average 40 Time. Used to see how better or worse a Player Ran at the Combine. |
| ProDayDate | Players Main Pro Day Date, School or if at Another College |
| ProDayDate2 | Players Alternate Pro Day Date, If He Hand Multiple |
| Symbol | Used for Various Notes, Coming off Injuries, Entering the Draft with an Injury, Transfers, etc |
| School Bio URL | Web Page Link to the Players Official School Bio or Roster Page if they Have none online. |
| DRnd | Drafted Round – For Post Draft Updates, Use as Desired |
| DPick | Draft Pick in that Round – For Post Draft Updates, Use as Desired |
| DOvrPick | Overall Draft Pick /254 – For Post Draft Updates, Use as Desired |
| DTeam | Drafted by Team – For Post Draft Updates, Use as Desired |
| FASignDate | Date signed as Undrafted Free Agent – For Post Draft Updates, Use as Desired |
| FASignTeam | Signed by Team –  For Post Draft Updates, Use as Desired |
Specs
Release date:
April 13, 2019
Last updated:
April 12, 2019
Current version:
Pre-Draft Final
Product type:
Zipped Excel Spreadsheet
File format:
.Zip
File size:
552KB
Requirements:
Microsoft Excel, Spreadheet Viewer
Price:

$9.95

USD