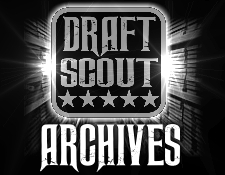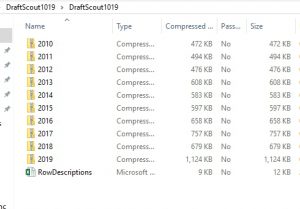 ---
2010-2019 Draft Scout Archives
One of Each Draft, 10 years, 2010, 2011, 2012, 2013, 2014,  2015, 2016, 2017, 2018 and the new 2019.Each season in it's own spreadsheet, zipped files in a folder.
Over 22,207 total Players, Full POST DRAFT Player Pools up until end of each Draft … All Testing Results, NFL Combine and Pro Timing Day Results… Post-Draft High Priority Free Agents/Mini Camp Tryouts Logged. 
Both Full Data Dump Excel Sheets, in Alphabetical Player Name Order
This download is pretty big, over 6 Meg large.
| | |
| --- | --- |
| Draft Scout Master Report Archives 2010 – 2019 NFL Draft Final. | 2010-2019 Post Draft – All Draft Picks – 1st Waves of High Priority Free Agents Signed/Over 22,000 Players – Rookie Mini Camp Tryouts/Logged |
| Row Name | Description |
| PlayerId | Draft Scouts Unique Number ID Assigned for Player from High School through Draft/Pro Football |
| DraftYear | Year in NFL Draft, ALL = 2010-2019 for this Information |
| Position Rank | Draft Scout's Player Ranking for the Position they Play, Sort ASC, Ascending when Filtering by Position |
| Top 1000 | Draft Scout's Overall Top 1000 Ranking, Sort ASC, Ascending to view Top 1000 in Order. Total Player Pool Plus Players Tested for the Draft. |
| Stock | Projected Statsu: Same (Holding Steady at the Time), Up (Rising), Down (Falling), Injury (Had or Entering Draft with an Injury) |
| Projected High | Highest Area of Draft or Round We Predict the Player will get Drafted based on Position Averages |
| Projected | Round Projection based on Players Top 1200 Rating, Cut to Exact Round Numbers |
| Projected Low | Lowest Area of Draft or Round We Predict the Player will get Drafted based on Position Averages |
| Jersey # | Players Jesery Number he worse this past Season |
| First Name | Player First Name |
| Last Name | Player Last Name |
| Position | Position Player Played in College or is Ranked at if Projected a Position Switch |
| Position2 | Position Player Could Play or Switch to in Pro Football |
| College | Players College he Attended |
| Class | Players Year of College, Sr = Senior, rSr = Redshirt Senior, Jr = Junior, rJr = Redshirt Junior, rSo= Redshirt Sophomore |
| Height | Players Height in Eights/Inch |
| Height2 | Players Height in Feet/Rounded up from Eights |
| Weight | Players Weight at Combine or Pro Day Measurements |
| 40LowRange | Players 40 Yard Dash – Lowest Time Range.In most cases .03 to.10 lowesr than his Fastest times to Group Hand Held Times & Estimate Ranges Pre-Testing |
| 40Time | Players 40 Yard Dash – Base 40 Time. The Average of the High-Low Range until Lowest Combine ET or Average Pro Day HH/Hand Held's Replace that Number. |
| 40HighRange | Players 40 Yard Dash – Highest Time Range.In most cases .03 to.10 lowesr than his Fastest times to Group Hand Held Times & Estimate Ranges Pre-Testing |
| Early Entry | Yes= Entered the NFL Draft Early, from Redshirt Sophomore (rSo) through Junior (Jr) |
| Combine Invite | Yes= Invited and Attended NFL Combine, Blank = No |
| Home City | Players Hometown City, Listed by College He Played For. |
| Home State | Players Home State |
| High School | Players High School or Junior College/Last College he Played For before enrolling. |
| Arm Length | Players Verified Arm Length Measurement, from Combine or Pro Day |
| Hand Length | Players Verified Hand Size Measurement, from Combine or Pro Day |
| Wingspan | Players Verified Wingspan Measurement, from Combine or Pro Day |
| CBench | C= Combine, All Rows with C in front are Combine Result Rows. CBench = Combine Bench Reps |
| PDBench | PD=ProDay, All Rows with PD in front are Verified Pro Timing Day Result Rows. PDBench = Pro Day Bench Reps |
| C10HH | Combine 10 Yard Dash HH – Fastest Hand Held Time |
| C10ET | Combine 10 Yard Dash ET – Fastest Electronic Time |
| PD10HH | Pro Day 10 Yard Dash HH – Fastest Hand Held Time |
| C20HH | Combine 20 Yard Dash HH – Fastest Hand Held Time |
| C20ET | Combine 20 Yard Dash ET – Fastest Electronic Time |
| PD20HH | Pro Day 20 Yard Dash HH – Fastest Hand Held Time |
| C40HH | Combine 40 Yard Dash HH – Fastest Hand Held Time |
| C40ET | Combine 40 Yard Dash ET – Fastest Electronic Time |
| PD40HH | **Pro Day 40 Yard Dash HH – Average of Both Runs/Range – Based on Numerous Factors. See Next Row for Times. |
| Pro Timing Day Notes | Verified 40 Yard Dash Hand Held Time Ranges/Other Various Notes on Drills skipped, Injuries, etc. |
| CVJ | Combine Vertical Jump – Highest |
| PDVJ | Pro Day Vertical Jump – Highest |
| CBJ | Combine Broad Jump -Longest |
| PDBJ | Pro Day Broad Jump – Longest |
| CShuttle | Combine Shutte Time – Fastest |
| PDShuttle | Pro Day Shuttle Time – Fastest |
| CCone | Combine 3Cone Time – Fastest |
| PDCone | Pro Day 3Cone Time -Fastest |
| Combine# | Jersey Number Player wore at the Combine |
| CombineGroup | Position Group Player was assigned to at the Combine |
| CombineWONote | Various Combine Workout Notes. The PBC Number is the Projected 40 Time we had as an average 40 Time. Used to see how better or worse a Player Ran at the Combine. |
| ProDayDate | Players Main Pro Day Date, School or if at Another College |
| ProDayDate2 | Players Alternate Pro Day Date, If He Hand Multiple |
| Symbol | Used for Various Notes, Coming off Injuries, Entering the Draft with an Injury, Transfers, etc |
| School Bio URL | Web Page Link to the Players Official School Bio or Roster Page if they Have none online. |
| DRnd | Drafted Round – For Post Draft Updates, Use as Desired |
| DPick | Draft Pick in that Round – For Post Draft Updates, Use as Desired |
| DOvrPick | Overall Draft Pick /254 – For Post Draft Updates, Use as Desired |
| DTeam | Drafted by Team – For Post Draft Updates, Use as Desired |
| FASignDate | Date signed as Undrafted Free Agent – For Post Draft Updates, Use as Desired |
| FASignTeam | Signed by Team –  For Post Draft Updates, Use as Desired |
Specs
Release date:
July 1, 2019
Last updated:
July 1, 2019
Current version:
PostedJuly12019
Product type:
Zipped Excel Spreadsheet, Multi Zip Files in one Folder
File format:
.Zip
File size:
6.30 Meg
Requirements:
Microsoft Excel, Spreadheet Viewer, Winzip or Unzipping Utility
Price:

$74.95

USD