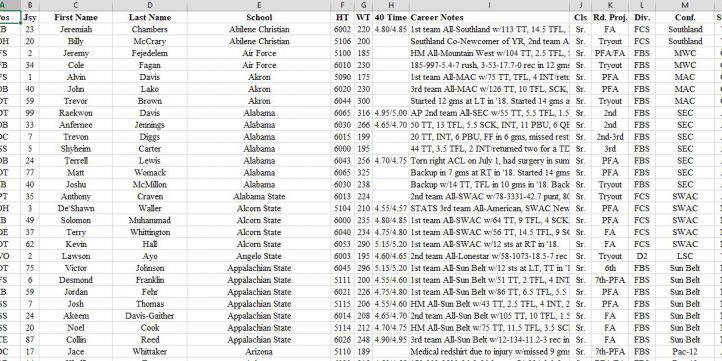 Note: This Purchase is for ONE, Single Copy, with TWO Updates, June & August 2019 as of 04/17/19.
Prospect Information, All Sort and Filterable Rows: Position, Jersey#, First Name, Last Name, College, Height, Weight, 40 Time Range, Career Notes/Stats/Awards, Class, Projected Round, Division, Conference, State
2020 Player Total: 1,220 and building, please see other version purchases for daily updates.
Hello,
Thank you for purchasing my personal prospect list for the 2019, 2020, 2021, and 2022 college football season scouting. I have been compiling this information for more than a decade. I have just started making these available to anyone other than myself & close NFL contacts this past year. This is exciting for me because now people can see the list building process I use to help build my database and ratings.
This document is in Microsoft Excel format so you can sort and filter information however you choose. The future scouting lists are always changing so you can purchase either one copy for $150, the first copy plus two updates (one in June and then August 1) for $200, or unlimited updates from now until the start of the season for $500.
This datasheet has taken a tremendous amount of time as I began this in the middle of December and just finished on April 17th. They are also geared more towards professionals in the business from media, trainers, agents, etc., but … fans, coaches, players, and draftniks would benefit from being able to see all of these player names and information, compiled in one place as well
You must have an Excel Spread sheet viewer to be able to view and use this file. If you have any issues, please contact us at Draft Scout, Brian Hitterman or I will help you.
Thanks!
JBScouting
Josh Buchanan